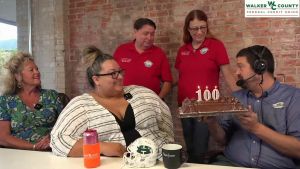 At Hello Huntsville, our mission is simple yet impactful: to uplift and inspire the Huntsville, Texas community. We achieve this by creating a multitude of avenues to share good news and foster a positive environment. From stories of community resilience to uplifting music, our commitment is to be a cornerstone of optimism and a source of inspiration for the people in Huntsville.
One of the highlights of our operation is our weekday morning show, "Good Morning Huntsville," which airs every day from 7 AM to 8 AM. The show not only serves as a platform for sharing good news but also features guests from various walks of life who contribute to our community in meaningful ways. Topics range from community events to self-improvement tips, all designed to start your day on a positive note.
Another avenue through which we spread positivity is our SpiritRadio.FM app. Known as "The Spirit of Huntsville," this online radio station broadcasts inspirational music and enlightening messages 24/7. We proudly include Focus on the Family content, local news, and weather events, among other offerings, ensuring that our listeners have access to a broad spectrum of uplifting content at all times.
Our membership with the local Chamber of Commerce has been invaluable in our journey. This association has provided us with an extraordinary platform for networking with other businesses and community leaders. The exposure we've gained through the chamber has expanded our audience reach, helping us share our uplifting messages with a larger segment of Huntsville's population. More than that, the membership offers us opportunities to engage in community service activities, allowing us to give back in a way that resonates with our mission. We view our chamber membership not merely as a business transaction but as a meaningful partnership that enhances our capability to better serve and build our community.
For those who are interested in becoming part of this journey or learning more about us, we are conveniently located at 1201 University Ave, right downtown next to THE GALLERY and HUNTSVILLE MAIN STREET. We invite you to reach out to us at 936-339-0139 or to explore our website at https://www.hellohuntsvilletx.com for further information.