The Huntsville-Walker County Chamber of Commerce PROUDLY sponsors the Huntsville Leadership Institute (HLI) and graduates an average of 20 individuals each year who are eager to serve their community with the knowledge they learned throughout the prior 9 months!  HLI was established to foster the development of community leaders from all segments of the Huntsville/Walker County area, specifically to:
Promote leadership as a public responsibility
Identify and develop new and emerging leader candidates for community service and improved business practices
Encourage communication between current and future leaders
Fill key community leadership positions with graduates
Develop a large, active group of graduates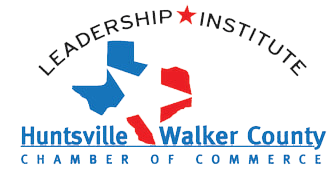 While HLI focuses on leadership, the program also focuses on Community Awareness, Networking and Relationships!  Participants visit various businesses and organizations throughout the year; learning what makes our community unique to those around us.   Relationships are formed instantly and many last a lifetime.  Networking is a key part of the experience as well, creating the opportunity for participants to broaden their business relationships as well as personal relationships. HLI class members are led on guided tours of SHSU, HISD, TDCJ Wynne & Walls Unit,  Trinity River Authority,  Huntsville Fire & Police, City Recycling Center, Huntsville Memorial Hospital and the Walker County Jail, as well as tours of several museums and the Sam Houston Statue just to name a few!   Tours of these organizations give class members an opportunity to learn what makes Huntsville a unique and thriving community to live, work and play.
The application process begins each summer in June.
Dates for the 2023-2024 year are as follows:
August 1-Applications Due
September 7 - Orientation; 5:15 p.m.
September 18 & 19 Retreat (Overnight – 2 day retreat is MANDATORY)
October 17
November 14
December 19
January 16
February 20
March 19
April 16
May 21
May/June – Graduation TBA
If you have any questions or for more info, please call HLI Coordinator Laura Green at 936-295-8113.
"HLI helped build our foundation of understanding and broadened our perspective, but it also took us down the path of self-discovery."
- Kirstie Legerski, HLI Class #34; 2017-2018 HLI Chair
"I think the HLI program is fabulous for networking; but, also very beneficial for developing leaders to run for public office or just get more involved with the community.  It helps people find a good fit for their area of interest in serving the community."
Patsy Collins, HLI Class #35